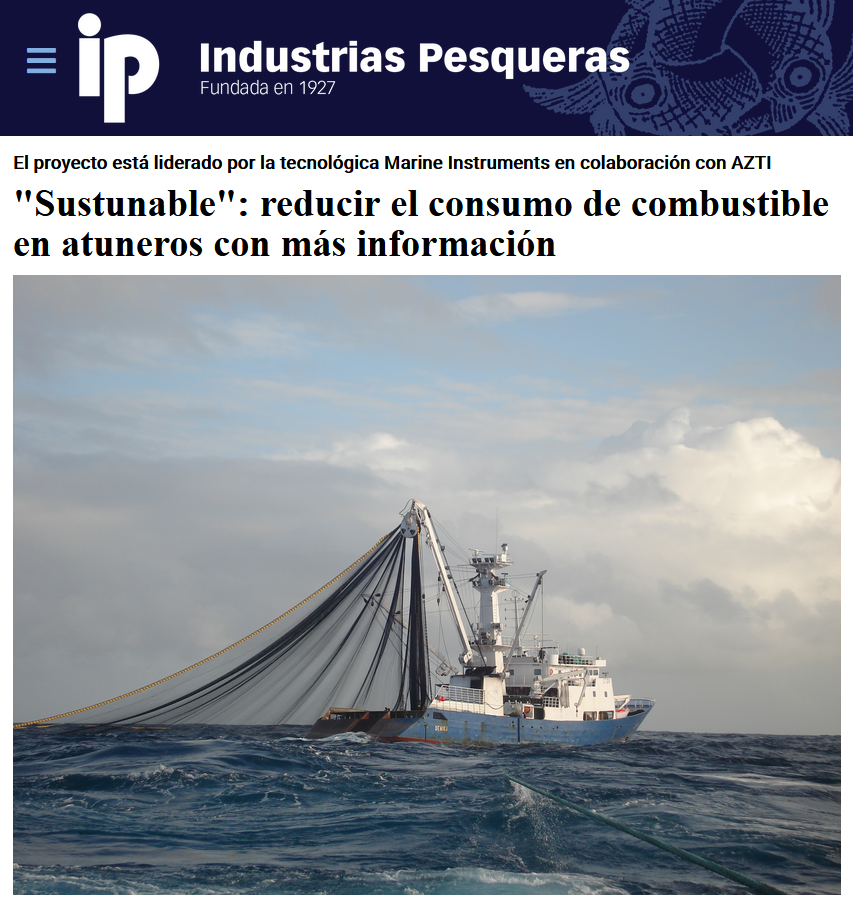 The global tuna fleet emits 7,700 million tons of CO2 every year and fuel represents 50% of its operational expenditure. A high environmental and economic cost that new technologies could mitigate.
It will be one of  Marine Instruments missions, the Galician technological company that has been working hand in hand with the tuna sector for 15 years, after being chosen by the European Union to lead the Sustuntech Project (Sustainable Tuna Fisheries Through Advanced Earth Observation Tools) financed through Horizon 2020. The AZTI Technology Center of the Basque Country also plays an important role within the consortium.
The objective of the project is to reduce the fuel consumption and emissions of the tuna fleet by developing new systems that help improve decision-making and, therefore, maximize fishing activity.
The project will combine information from Marine Instruments satellite buoys, data from different sensors installed on two tuna vessels from Echebastar company, oceanographic information obtained from Copernicus, machine learning techniques and artificial intelligence algorithms developed by AZTI, Newcastle University (United Kingdom) and Marine Instruments, to obtain tuna distribution maps, navigation recommendations, as well as determine the best routes to follow to minimize fuel consumption. Furthermore, the information obtained by the sensors will be sent back to Copernicus to improve its ocean observing models in what might be called a circular data economy. Its duration will be 3 years.
NEW COMMERCIAL SOLUTIONS
With the data obtained, new commercial products will be launched on the market, such as Ratatosk as a signal collector on vessels, by Sintef and SmartMarineView by Marine Instruments, an improved version of the MarineView product that is currently on the market. This new product will provide the skipper with information on real-time fuel consumption and condition of the engine, tuna distribution maps and, combining all this and the information on the buoys, recommendations on the optimal route to follow. The result will lead to significant savings in fuel and emissions to the atmosphere.
Read original article here