Jose A. Fernandes, Karl-Johan Reite, Zigor Uriondo, Igor Granado, Iñaki Quincoces
DataBio book (Södergård et al., 2021) has just been published with contributions from SusTunTech.  Chapter 28 presents the opportunities of using Big data and machine learning to reduce fuel consumption, improve planning and stock assessments (Reite et al., 2021). Click here to download.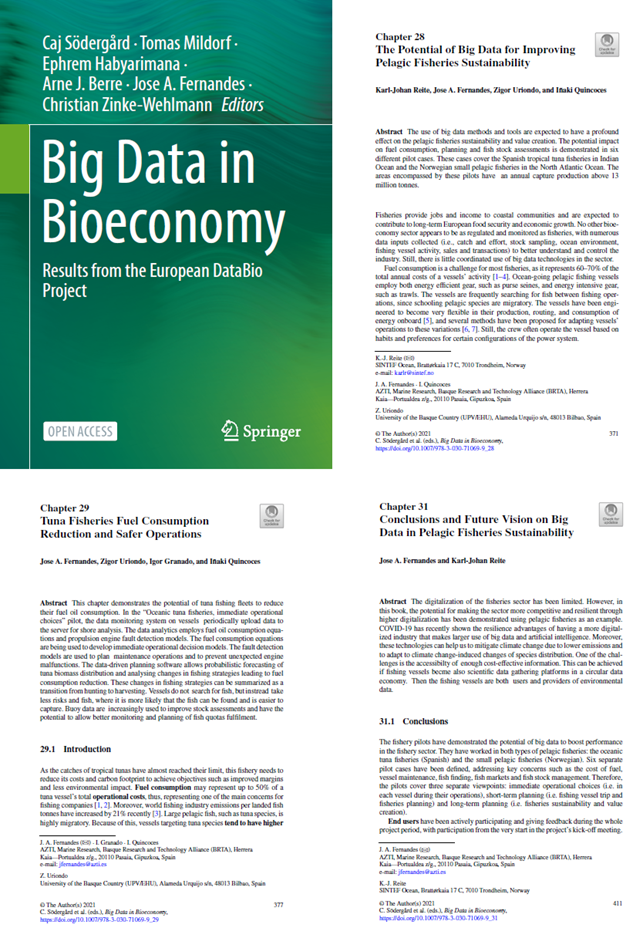 Furthermore, SusTunTech has contributed to the writing of Chapter 31 where some conclusions and ways forward are provide for the fisheries industry to incorporate Big data and machine learning to increase its environmental and economic sustainability (Fernandes and Reite, 2021). Chapter 29 provides some of the proof-of-concept algorithms that had been further developed in SusTunTech (Fernandes et al., 2021). For example, SusTunTech is developing algorithms for species distribution instead of considering only aggregated biomass. Moreover, SusTunTech goes beyond proofs of concepts by integrating algorithms in commercial products and testing them in real environment. However, there is a need for the industry to further digitalize. For this reason SusTunTech has designed and implemented a digitalization strategy in two tuna vessels. SusTunTech as also coined the term of circular data where fishing vessels are consumers of oceanographic data, but also providers of oceanographic data. I.e. the fishing vessesl became cost-effective data capturing plattforms.
References
Södergård, C., Mildorf, T., Habyarimana, E., Berre, A.J., Fernandes, J.A., Zinke-Wehlmann, C., 2021. Big Data In Bioeconomy. Springer. ISBN 978-3-030-71068-2. https://link.springer.com/book/10.1007%2F978-3-030-71069-9
Reite, K., Fernandes, J.A., Uriondo, Z., Quincoces, I., 2021. Chapter 28: The Potential of Big Data for Improving Pelagic Fisheries Sustainability. Södergård, C., Mildorf, T., Habyarimana, E., Berre, A.J., Fernandes, J.A., Zinke-Wehlmann, C. (eds.). Big Data In Bioeconomy. Springer. ISBN 978-3-030-71068-2. https://link.springer.com/book/10.1007%2F978-3-030-71069-9
Fernandes, J.A., Uriondo, Z., Granado, I., Quincoces, I., 2021.  Chapter 29: Tuna Fisheries Fuel Consumption Reduction and Safer Operations. Södergård, C., Mildorf, T., Habyarimana, E., Berre, A.J., Fernandes, J.A., Zinke-Wehlmann, C. (eds.). Big Data In Bioeconomy. Springer. ISBN 978-3-030-71068-2. https://link.springer.com/book/10.1007%2F978-3-030-71069-9
Fernandes, J.A., Reite, K., 2021. Chapter 31: Conclusions and Future Vision on Big Data in Pelagic Fisheries Sustainability. Södergård, C., Mildorf, T., Habyarimana, E., Berre, A.J., Fernandes, J.A., Zinke-Wehlmann, C. (eds.). Big Data In Bioeconomy. Springer. ISBN 978-3-030-71068-2. https://link.springer.com/book/10.1007%2F978-3-030-71069-9