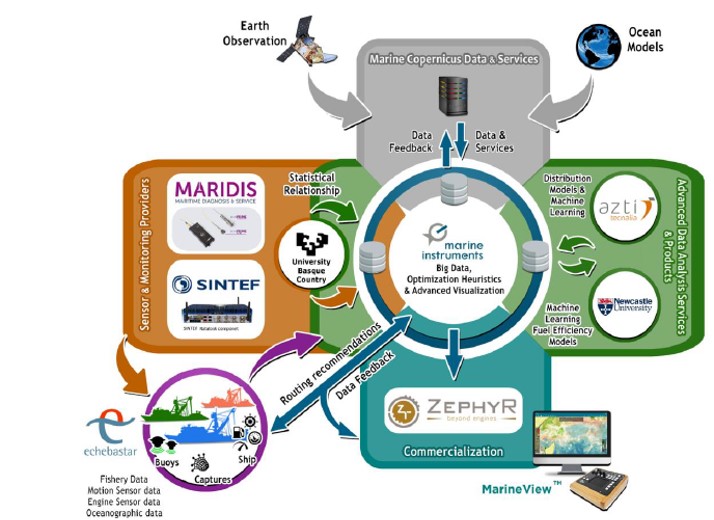 Ratatosk simplifies data communication and aggregation in systems with heterogeneous sensors, by making sensor data and derived data available through a shared data space.
Official website link: https://ratatosk.smd.sintef.no
Read More
The product will help to identify and solve deviations in fuel consumption with the consequent economic saving and emissions reduction. In addition, the deviation can highlight a need for maintenance and avoid engine failures that can have high economic and work impact.
Read More
The product will allow individual vessels to improve their operations with less fuel consumption. Furthermore, the product will also allow the exchange of information across full fleets with strategies for coordination that will reduce further the fuel consumption and give advantage over other non-coordinated fleets.
Read More
CARBON FOOTPRINT CERTIFICATIONS
It allows to make better informed decisions favouring and valuing more activities that are more environmentally friendly to preserve the natural capital. MSC has provided a letter of support since there is interest by this certification institution.
The developed algorithms will help to reduce fuel consumption and for calculating vessels and fleets footprint more accurately. This is of interest for the industry to reduce their fuel consumption, but also for policy makers and NGOs that want to calculate and monitor activities footprint and its reduction. For example, one of the World Bank indicators is GDP divided by greenhouse gas emissions.
Read More
The novel probabilistic models adapted to the needs and problems of the tuna industry would be very valuable. However, novel developments can be applied to other domains by industry and researchers when the problem has similar characteristics.