Lohitzune Solabarrieta, Asier Nieto, Jon Berregi, Ainhoa Caballero, Jose A. Fernandes-Salvador
The X-band marine radar was installed in Bilbao, Basque Country, on April 12, 2022, with help of the authorities of Bilbao Port, after the first experiences with the installations of the X-band radar in Higer and Biarritz. This installation took place in the framework of SusTunTech project, leaded by Marine Instruments (Spain) but also in collaboration with PI-BREAK project.
The new location opens new opportunities to analyze the capabilities of this technology to measure surface currents and waves in deeper waters and in an area with seasonal differences in the coastal dynamics and the main wave directions. This new setup and collaboration will allow SusTunTech project to complete the X-band radar measurements with an in-situ buoy and ADCP data and with videometry images, obtained from cameras installed at the same station of the X-band radar. This is the first time for such a long deployment using x-band radar together with buoy, ADCP and videometry images.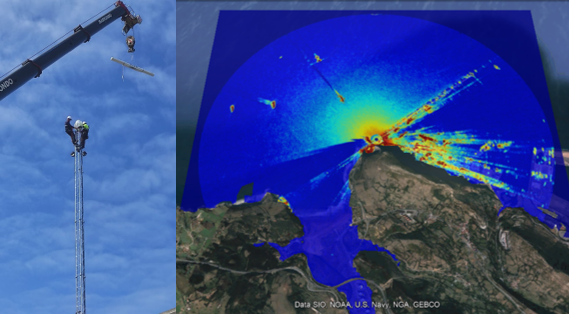 Images: (left) Installation of the X-band radar with a crane. (right) Image from the X-band radar with ships observed in the northwest waters.