Sharing marine radar for long-time measurements and intercomparisons
Lohitzune Solabarrieta, Ainhoa Caballero, Anna Rubio, Julien Mader, Iñaki Quincoces, Jose A. Fernandes
After the first experience in the installation of the X-band radar in cape Higer during December 2020 to January 2021, the X-band marine radar was installed in Biarritz (France), on March 2nd, with the help of the city Council of Biarritz.
This new installation was carried out by AZTI (Spain) and the Helmholtz-Zentrum Geesthacht center (HGZ, Germany) in the framework of SusTunTech project , led by Marine Instruments (Spain). In addition, in this new location there is the opportunity to collaborate with Marlit POCTEFA cross border project which shares synergies with Sustuntech.
The objective of MARLIT project, led by AZTI in collaboration with Rivages Pro Tech (SUEZ), University of Pau and Polytechnic University of Catalonia, is to study the impact of marine extreme events in the coastline.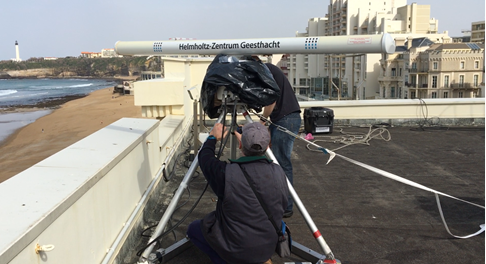 During the next months, the x-band radar (transmission frequency: 9410 ± 30 MHz) developed by HZG will measure wave's period and direction, as well as surface currents in front of Biarritz's beach, up to 3 km offshore. The X-band radar's measurements will be complemented with in-situ measurement deployed in the x-band radar footprint area, under the umbrella of MARLIT project. This multiplatform experiment will allow to 1) compare the measurements of the same variable but from different instruments, 2) find complementarities of the different instruments to characterize the wave regime and the surface currents and 3) gain experience in the use of the X-band data processing and analysis.
A one-year time-series from X-band radar data is aimed to allow Sustuntech team to analyze the feasibility of those data to feed European open data aggregators (e.g., EMODnet and Copernicus). Improving the amount and quality of data in these public sources is crucial for the development of fuel consumption reduction strategies using oceanographic model simulations. This new location will allow (i) an easier real-time monitoring with continuous online connection to the radar (ii) the possibility to download the measured data in real time for the storage in the project server (iii) to have an optimal view and coverage of the marine coast without interferences.